Submitted by

IISRCLT

on Wed, 04/11/2018 - 14:59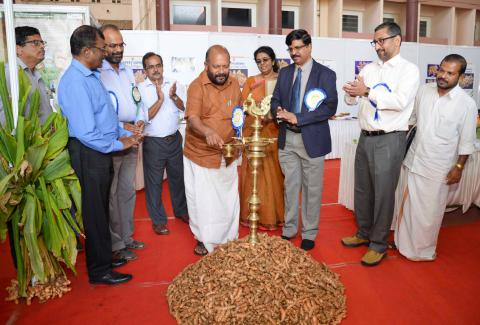 Shri V S Sunil Kumar, Honourable Agricultural Minister, Government of Kerala inaugurated the Turmeric Fest held at the ICAR-Indian Institute of Spices Research, Kozhikode on 20 Jan. 2018. Inaugurating the event he reflected on the loss of ethnic crops like millets, pulses and spices from Kerala and stressed the need for cooperation between the state and central institutes and other allied departments to regain the lost glory of Kerala as the spice bowl of the world. He also stressed that spices crops were also losing their luster in Kerala and reiterated the importance of value addition to enhance the profitability of this sector. Earlier, the institute had organized an awareness programme on Provisions of the Protection of Plant Varieties and Farmers' Right Act to provide an effective system for protection of plant varieties, the rights of farmers and plant breeders and to encourage the development of new varieties of plants. Besides, technical sessions on turmeric varietal wealth, processing and value addition and organic production of turmeric were also held as a part of the seminar. The minister felicitated Dr B Sasikumar, the man behind several spices varieties and also granted non-exclusive licenses for new technologies of ICAR-IISR to start-ups and entrepreneurs for commercialization.
A major highlight of the fest was the mega exhibition which allowed the farmers and participants to experience the grandeur of what the world calls the biggest repository of spices germplasm. More than 100 farmers from across the state attended the event. Dr K Nirmal Babu, Director, ICAR-IISR welcomed the gathering, while the presidential address was delivered by Dr BNS Murthy, Horticulture Commissioner, Government of India. Also present were Dr M Anandaraj, Former Director, ICAR-IISR; Dr Homey Cherian, Director, DASD, Kozhikode and Dr A B Remashree, Director, ICRI, Myladumpara.